Administrative Board
President: Dr. Tamara Kozymenko (Ukraine)
General Secretary: Dr. Atul Jaggi (India)
Treasurer: Dr. Nataliia Kolomiiets (Ukraine)
Member: Dr. Nadia Kubasheva (Russia)
Member: Dr. Silvia Vasile (Romania)
Audit Committee
Dr. Seema Mahesh (India)
Dr. Dmitry Chabanov (Russia)
Dr. Ramon Unzuetta (Colombia)
Alternate Members of Administrative Board
Dr. Maria Angels Carrera (Spain)
Dr. Julien Meyet (UK, Scotland)
Dr. Nitin Thakur (India)
Dr. Ekaterini Wolf (Germany)
Dr. Maka Talakhadze (Russia)
Alternate Members of Audit Committee
Dr. Cristina Georgescu (Romania)
Dr. Kamal Jalodia (India)
Dr. Ziad Salloum (Lebanon)
Meet our Board
Тamara Kozymenko, MD, PhD
Professor at Kyiv Medical University, Ukraine
Diploma Holder of IACH (2011)
Coordinator of E-Learning Course of IACH in Ukraine (since 2016)
Expert of WHO on Traditional Medicine from Ukraine
After graduating from the Bogomolets National Medical University, she worked as scientific worker in the Institute of Gerontology in Kyiv where defended a thesis on Cardiology in 1991.
In 2008-2011 she studied in Russian Branch of IACH in Moscow.
In 2007-2019 she led the course of homeopathy at Kyiv Medical University, since 2019 she was responsible for the Postgraduate Course in Homeopathy at the same University. She was the chief specialist on Traditional Medicine of city Kiev. She took part in WHO Congress on Traditional Medicine (2008) and Third WHO Working Group Meeting on Traditional Medicine Strategy (2012)
---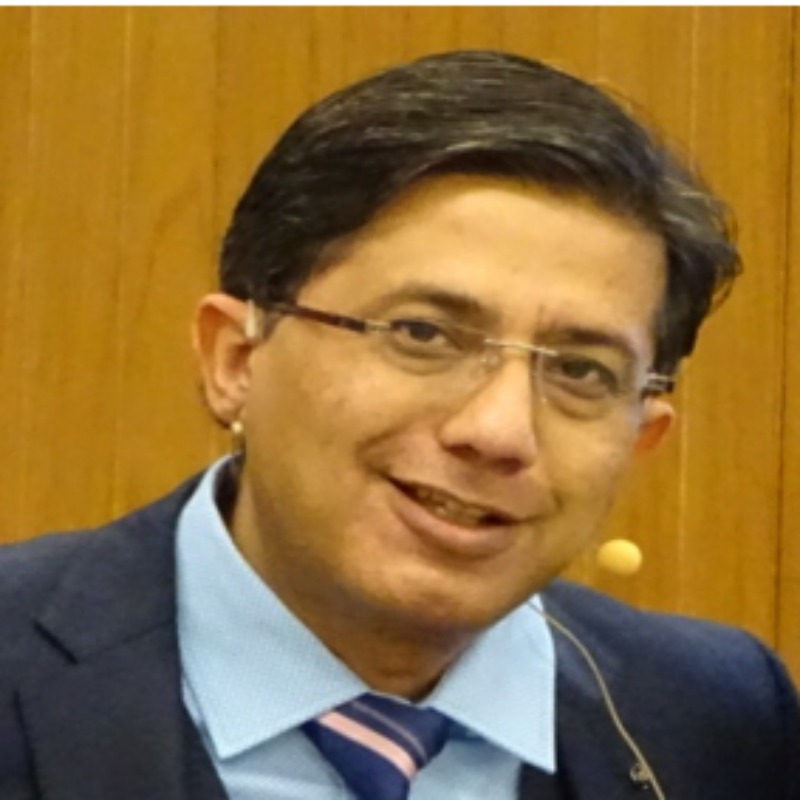 Atul Jaggi, BHMS, Dip(IACH)
Teaching member of IACH, gives many International seminars and webinars
Diploma Holder of IACH (2000)
Coordinator of E-learning Course of IACH in India
He came in contact with Homeopathy in 1991 when he started studying from one of India's best college – Nehru Homeopathic Medical College and Hospital, New Delhi. But his real homeopathic evolution began, when in 1996 he got fortunate to join the first group of Four Year Course in International Academy of Classical Homeopathy (IACH), headed by Professor George Vithoulkas. In 2000, he received the esteemed Diploma of IACH and was awarded with a scholarship, as he stood 3rd amongst 170 International doctors. His main mission is to bring students in contact with the precious and life changing teachings of Professor George Vithoulkas and spread real Hahnemannian Classical Homeopathy
---
Nataliia Kolomiiets, MD
Diploma Holder of IACH (2011)
Coodinator of the IACH and E-learning Course of IACH in Ukraine (since 2016)
After graduating from the Bogomolets National Medical University she worked as a pediatric surgeon. In 2008-2011 she studied in Russian branch of IACH in Moscow. She has an extensive homeopathic practice and heads the Center of Classical Homeopathy in Kyiv.
---
Nadezhda Kubasheva, MD
Diploma Holder of IACH (2000)
Teacher at the Russian branch of IACH (2005-2015)
Coordinator of E-Learning Course of IACH in Russia (since 2015)
Head of the "Clinic of Nadezhda Kubasheva", Moscow (since 2016)
Member of the Executive Committee of the Russian Homeopathic Society
Chairman of the Society of Homeopaths of the Udmurt Republic
She graduated from the Izhevsk State Medical Academy in 1984. From 1984 to 1994 she worked as a general practitioner in a multidisciplinary hospital, where she gained rich clinical experience of treating patients with severe pathology. In 1994 she received her first knowledge of homeopathy at the Kiev Institute of Obstetrics and Gynecology (Ukraine) and opened a private homeopathic practice.
Years of study with a great Teacher at the International Academy of Classical Homeopathy were the best in terms of a breakthrough in consciousness (1996-2000). "My entire professional life has been devoted to healing people and homeopathy."
---
Silvia Vasile, MD, H(omeopathic) MD
Diploma Holder of IACH (2000)
Coordinator and Moderator of the E-learning Course of IACH in Romania
MD since 1985, homeopathic MD since 1997
2000 – graduated from IACH of Alonissos, Greece
1999 – present: translator of Homeopathy
Apart from her extensive medical activity, she has translated over 30 homeopathic books into Romanian including all Professor Vithoulkas's works.
---
Seema Mahesh, BHMS, MD (hom), Dip (IACH), MSc (Medical sciences)
Research Director of IACH
With over 19 peer reviewed publications in journals of repute, she has presented numerous research posters in conventional medical conferences on immunology and chronic inflammation, including in Brooklyn New York, Fiji, Stockholm Sweden, Dublin Ireland, Amsterdam Netherlands, London UK, Madrid Spain, Vancouver Canada and Tel Aviv Israel, and on homeopathy at New Delhi India and Istanbul Turkey. She was awarded the Certificate of Excellence" for her research poster at 'Movement – Brain – Body – Cognition' conference at Harvard Medical School, USA. Known for her teaching, she has taught homeopathy and research on global platforms held at USA, Mexico, Greece, Brazil, Turkey, Thailand, Malaysia, Israel, Egypt and India with audience from across the world.
---
Dmitry Chabanov, MD, PhD
Founder and director of the Novosibirsk Center of Homeopathy (Russia)
President of the Siberian Homeopathic Association
Diploma Holder of IACH (2000)
Coordinator and Moderator of E-Learning Course of IACH in Russia (since 2011) He had graduated from the Novosibirsk State Medical University in 1987 and then completed a 2-year residency in the Scientific Research Institution of Therapy of the Medical Academy of USSR. In 1989 – 1991 had worked as a physician in the urgent therapy department of the Novosibirsk Hospital of Emergency Aid №1. In 2004 defended the PhD degree with thesis in "Infectious diseases" specialty. In 1991 studied homeopathy in Homeopathic League of the USSR in Moscow and started to practice as a physician – homeopath. In 1997 he established the Novosibirsk Centre of Homeopathy and has been a director in the organization since then.
---
Ramón Unzueta Hoffmann, MD. M.F.
Professor at Pontificia Javeriana University Medical School, Cali Colombia
Professor at Universidad Del Valle Medical School, Cali Colombia
Diploma Holder of IACH (2009)
Coordinator of E-Learning Course of IACH in Colombia (since 2015)
Family Medicine Specialist from the Universidad del Valle, 1989
Expert on Traditional Medicine, Primary Health Care, adviser to midwives in the Colombian Chocoan jungle for the Ministry of Health of Colombia and the Pan American Health Organization PAO during his postgraduate studies in Family Medicine 1986-1989
Founder of the Classical Homeopathy Course at the Universidad del Valle Cali School of Medicine, 2009
Director of the International Diploma course in Classical Homeopathy Faculty of Medicine Universidad Javeriana since 2015
He has published about 30 articles on Family Medicine, Primary Health Care, Classical Homeopathy, Medical Education and Functional Medicine.
Private practice in Homeopathy and Family and Functional Medicine since 1990.
---
Maria Àngels Carrera, MD
Diploma Holder of IACH
Coordinator of the E-Learning Course of IACH in Spain (since 2016)
Studied in Universitat Autònoma de Barcelona
Post graduate in Classical Homeopathy in Oaxaca (México) with Dr. Proceso Sánchez Ortega, since 1986
Active member of Academia de Medicina Homeopàtica de Bercelona, studying with several teachers and acting as a professor too (since 1986)
Practicing Classical Homeopathy, full time since 1986
Since 2013, she is in touch in depth with the Professor Vithoulkas' teachings, meaning a big step in her path.
---
Julien Baron-Meyet
Не is an experienced homeopath living in Scotland.
He has a wide scientific and medical background (BSc(Hon) Biomathematics & Biochemistry, Osteopath DO, Lic. Acupuncture), has worked and taught in different countries.
His encounter with Professor Vithoulkas' medical breakthroughs changed his career and he graduated from the IACH with excellence.
He joined the IACH team as UK Course coordinator, French E-Learning Moderator, copy editor, member of the Scientific & Research Committee and is Director of Rowan Health, Homeopathy and Complementary Medicine Clinic in Edinburgh, UK.
---
Nitin Thakur, BHMS, Dip(IACH)
Diploma Holder of IACH (2014)
Assistant Coordinator of E-learning Course of IACH in Latur, Maharashtra, India.
Started his clinical practice in 2009. He has passed E-Learning exam and done DIACH in 2014 and PG DIACH in 2017.
His real Homeopathic practice started when he received Diploma of IACH in 2014 under moderation of Dr Atul Jaggi. He had attended Difficult Cases with in-depth Analysis Course at IACH, Alonissos in 2018 and in 2019.
The E-Learning course by Professor Vithoulkas was turning point in his life. It improved his Homeopathic practice and also moved him in right direction of living life. Since then he decided to spread the precious teachings of Professor George Vithoulkas. He is assistant Coordinator of this course and with the help of Dr Atul Jaggi and Dr Latika Jaggi conducting an E-Learning classes.
---
Ekaterini Wolf, MD, PhD
Diploma of IACH (2000)
1980-1986 Study of Medicine at the Ludwig-Maximilians-University (LMU) in Munich, Germany
Since 1986 Diploma of Medicine (Phycisian) – General Practitioner
Since 1999 Private medical practice focused on Homeopathy
2001 – PhD in Medicine with distinction, at the University Hospital Schwabing in Munich ,with the title: "Die Latex Allergie beim Krankenhauspersonal"
Homeopathic education:
1996-2000 International Academy of Classical Homeopathy (IACH) with Prof. George Vithoulkas – attended the first full course by IACH in Alonissos
2001 Homeopathy diploma and recognition of the title of homeopathic doctor by the Bavarian Medical Association
2001-2019 Yearly attending Postgradaute Courses in IACH with Prof. George Vithoulkas
Several years of homeopathic training at the Center for Homeopathy in Belgium with Mrs. Henny Heudens-Mast
Homeopathy diploma of the EUH (European Union of Homeopathy)
2009-2015 Founder and board member of the EUH association
2017-2021 Board member of the George Vithoulkas Stiftung (Foundation) in Munich and organizer of seminars and E-Learning Course
---
Maka Talakhadze, МD
Diploma Holder of IACH (2017)
Assistant Coordinator of E-Learning Course of IACH (Moscow, Russia) since 2018
Practicing homeopathy since 2014
1999 – attended general homeopathic training by Russian Medical Academy of Postgraduate Education (Moscow, Russia)
2015-2017 – studied at International Academy of Classical Homeopathy (IACH)
2017-present – homeopath at the clinic of Nadezhda Kubasheva (Moscow, Russia)
2018-2020 – speaker at 28th, 29th and 30th conferences on "Development of the homeopathic method in modern medicine".
2021 – member of Russian Homeopathic society and full member of Liga Medicorum Homoeopathica Internationalis (LMHI).
1989-1995 – acquired MD from Tbilisi State Medical University, Faculty of General Medicine, specialty General Medicine (Tbilisi, Georgia)
1996-1998 – clinical resident of cardiology at Russian State Medical University (Moscow, Russia)
2002 – primary specialization in rheumatology at the Research Institute of Rheumatology (Moscow, Russia)
1999-2013 – rheumatologist at the National Medical and Surgical Center named after N.I. Pirogov (Moscow, Russia).
---
Cristina Georgescu, MD
Diploma Holder of IACH (2019)
Medical Doctor since 1996 (Medical University "Carol Davila" – Bucharest Romania), acting as General Practitioner and Homeopath.
After hearing so many things about Professor George Vithoulkas and his teachings, she graduated IACH E-Learning.
Her current practice as Classical Homeopath is at Memo Med Clinic in Bucharest.
---
Kamal Jalobia, MD
Diploma holder of IACH (2008)
Coordinator of the E-Learning Course of IACH in Kolkata, India (since 2018)
Practicing Classical Homoeopath for 21 years.
Passed out D.H.M.S from Kolkata India in 1999.
P.G Course on "Levels of Health" in 2011,
Attended the advanced PG course at IACH (Greece) in 2015, P.G course for Russia and other countries and Difficult Course with in-depth analysis in 2019.
---
Ziad K. Salloum, MD, DDS
Moderator of the E-Learning Program-Arabic (since 2018)
Coordinator of the E-Learning Program (since 2013)
Diploma of IACH (2015)
The journey with classical homeopathy started in 2004. In 2012 continued the journey with IACH, attended the postgraduate studies at Alonissos till 2019, then attended the webinars till now.
Translated the E-Learning program to Arabic and continued to translate the books of Professor George Vithoulkas.
Dedicated and committed to spreading the correct teachings of classical homeopathy. The vision and the mission is to spread the teachings of Professor George Vithoulkas via the E-Learning Program which is an academic program based on the highest educational standards according to the principles of Samuel Hahnemann.